Hint
Our hint: Right-klick on the link and choose "Save target as..." to load the selected brochure on your PC. From there, you can navigate faster within the document and for later reviews, you don't have to load it again from the internet. To view, you need Adobe Reader.
Catalogs
Here you can download our latest catalogs in PDF-files.
For 2011 and 2012 our catalog 2009 and novelties brochure 2010 remain valid.
For all questions and for orders, please email to:
email@engelpuppen.com
.
catalog 2009
catalog 2009 (6,6 MB)
play dolls* and collectible dolls, includes Hans Voelk nostalgic collectible dolls, dolls in original regional costumes and chimney sweep dolls and bears
novelties 2010
novelties 2010 (875 KB)
play dolls* and collectible dolls

add-on catalog 2011
add-on catalog 2011 (2,0 MB)
undressed dolls, doll parts and mounting accessories, wigs, eyes and various accessories, like underwear, shoes, hats and stands
porcelain-artist-dolls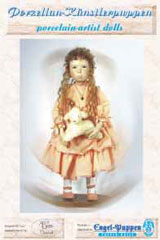 porcelain-artist-dolls
(This brochure is being reworked and currently not available.)